Last updated 02 January 2017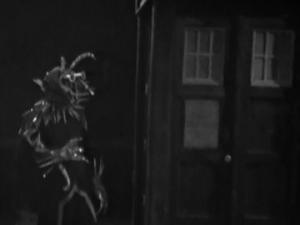 Broadcast: Sunday 17th June 2001
12:00am-12:50am EDT
(04:00 GMT)
<
>
«
»
MPT Maryland
Featuring: William Hartnell, Jacqueline Hill, Maureen O'Brien, William Russell, Ray Barrett, Sydney Wilson
Arriving on the planet Dido, the Doctor, Barbara and Ian discover a crashed spaceship from Earth and survivors. They are terrorised by the monstrous Koquillion who attacks Barbara.
Synopsis Source: Doctor Who Guide
Broadcast Source: TWIDW
Report from the This Week in Doctor Who Archive:
Friday 15th June 2001:
MPT Maryland
22,28,31,36,62,67
http://www.mpt.org/
Late Sat Mid EDT The Rescue 50 minute movie (The Powerful Enemy, Desperate Measures)
The 1st Doctor has lost a step following the departure of Susan. So the TARDIS takes him to Dido, a world where the natives are peaceful. And apparently trying to kill his crew. Hmm - something does not add up.