Last updated 02 January 2017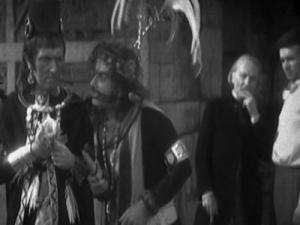 Broadcast: Sunday 20th May 2001
12:00am-1:30am EDT
(04:00 GMT)
<
>
«
»
MPT Maryland
Featuring: William Hartnell, Carole Ann Ford, Jacqueline Hill, William Russell, Ian Cullen, Keith Pyott, John Ringham
The TARDIS lands inside an Aztec temple in 15th Century Mexico and become cut off from the ship when they leave the temple to explore.
Synopsis Source: Doctor Who Guide
Broadcast Source: TWIDW
Report from the This Week in Doctor Who Archive:
Friday 18th May 2001:
MPT Maryland
22,28,31,36,62,67
http://www.mpt.org/
Late Sat Mid EDT The Aztecs movie (The Temple Of Evil, The Warriors Of Death, The Bride Of Sacrifice, The Day Of Darkness)
Barbara is mistaken for an Aztec god. The Doctor fears that power corrupts, and that Barbara might try to use her influence to stop the Aztecs from sacrificing humans, which would alter their culture to the point that it might not be wiped out by the Spanish. This would create a devastating change to human history. Neighboring tribes to the Aztecs, who made up most of the people being slaughtered as sacrifices, probably would not have shared the Doctor's concern.