Last updated 02 January 2017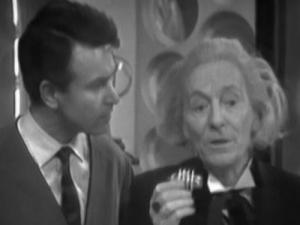 Broadcast: Saturday 28th April 2001
11:45pm-2:26am EDT
(03:45 GMT)
<
>
«
»
MPT Maryland
Featuring: William Hartnell, Carole Ann Ford, Jacqueline Hill, William Russell
The travellers venture out on to the surface of a new world. Everything is dead, but beyond a petrified jungle they see a huge metal city which the Doctor is determined to explore...
Synopsis Source: Doctor Who Guide
Broadcast Source: TWIDW
Report from the This Week in Doctor Who Archive:
Friday 27th April 2001:
MPT Maryland
22,28,31,36,62,67
http://www.mpt.org/
Sat 11:45PM EDT The Dead Planet 2 hr, 41 min movie (The Dead Planet, The Survivors, The Escape, The Ambush, The Expedition, The Ordeal, The Rescue)
The story that introduced the Daleks - one of the most famous monsters of sci-fi history. The 1stDoctor schemes to get his companions to explore a metal city, where mutants in metallic casings roam and plot the death of the other species on the planet. For the first time, the Doctor and company must decide whether to let history run its natural course, or get involved to protect good from evil.