Last updated 02 January 2017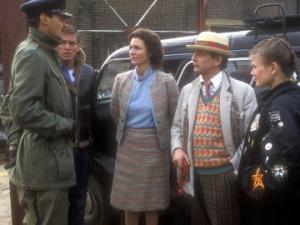 Broadcast: Saturday 3rd March 2001
~11:35pm-1:05am EST
(~04:35 GMT)
<
>
«
»
MPT Maryland
Featuring: Sylvester McCoy, Sophie Aldred, Dursley McLinden, Pamela Salem, Simon Williams
In Shoreditch, 1963, the Doctor's past begins to catch up with him… At the Totter's Lane junkyard where his adventures began, an old terror is returning.
Synopsis Source: Doctor Who Guide
---
Broadcast notes:
Time approximate as part of National Doctor Who Night.
Broadcast Source: TWIDW
Report from the This Week in Doctor Who Archive:
Friday 2nd March 2001:
MPT Maryland
22,28,31,36,62,67 http://www.mpt.org/
Sat 11:30PM-2AM EST National Doctor Who Night 2000 with Sylvester McCoy
By the way,
Remembrance of the Daleks
, the story that airs in Who Night, had its first showing on MPT exactly 12 years ago this weekend. The viewership could have been higher, but a heavy rainstorm wiped out reception that night for people in outer viewing areas without Cable. Hopefully history won't repeat itself - I think rain's in the weather forecast. This is the second airing of Who Night on MPT - the first airing made $15,000.