Last updated 02 January 2017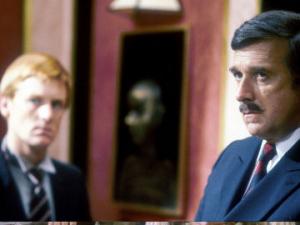 Broadcast: Sunday 13th August 2000
12:00am-1:30am EDT
(04:00 GMT)
<
>
«
»
MPT Maryland
Featuring: Peter Davison, Nicholas Courtney, Janet Fielding, Mark Strickson, Sarah Sutton, Valentine Dyall
Caught in a warp ellipse, the TARDIS is drawn to a huge spacecraft orbiting Earth whereupon the Doctor is separated in space and time from Nyssa and Tegan.
Synopsis Source: Doctor Who Guide
Broadcast Source: TWIDW
Report from the This Week in Doctor Who Archive:
Friday 11th August 2000:
MPT Maryland
22,28,31,36,62,67
http://www.mpt.org/
Late Sat Mid EDT Mawdryn Undead movie
1983 and 1977 collide when a ship of the undead comes into orbit around Earth. The ripples will affect the 5th Doctor and a boys school in Britain, where Brigadier Lethbridge-Stewart (retired) now works.