Last updated 02 January 2017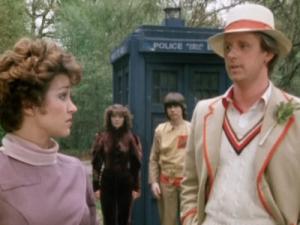 Broadcast: Sunday 2nd July 2000
12:00am-1:30am EDT
(04:00 GMT)
<
>
«
»
MPT Maryland
Featuring: Peter Davison, Janet Fielding, Sarah Sutton, Matthew Waterhouse, Michael Robbins
The TARDIS lands in 17th century England which is being stalked by a robotic death-like figure. The locals seem to be under a strange mesmeric spell.
Synopsis Source: Doctor Who Guide
Broadcast Source: TWIDW
Report from the This Week in Doctor Who Archive:
Friday 30th June 2000:
MPT Maryland
22,28,31,36,62,67
http://www.mpt.org/
Late Sat Mid EDT The Visitation all 4 eps
The 5th Doctor gets Tegan to Heathrow Airport - 300 or so years early. The locals are all acting strangely, and for once it's not just an ill-conceived scriptwriter assuming that rural people are bumpkins. That aspect's there too, but it's not the
main
reason they're acting strangely. Meanwhile, an old friend suffers a startling fate.
» it was confirmed the following week this was actually shown in movie format.