Last updated 02 January 2017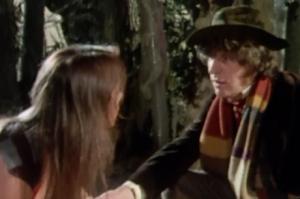 Broadcast: Sunday 5th December 1999
12:30am-2:00am EST
(05:30 GMT)
<
>
«
»
MPT Maryland
Featuring: Tom Baker, Louise Jameson, Brendan Price
The Doctor arrives on an alien world and is taken captive by the savage Sevateem tribe. Accused of being 'the evil one', the Doctor begins to suspect that he has been here before.
Synopsis Source: Doctor Who Guide
Broadcast Source: TWIDW
Report from the This Week in Doctor Who Archive:
Friday 3rd December 1999:
MPT Maryland
22, 28, 31, 36, 62, 67 http://www.mpt.org/
Late Sat 12:30AM EST The Face of Evil movie
Pledge season. Will probably manage to start even later than already advertised. The Doctor lands on a planet where he is known as an Ultimate Evil (TM). Well, when you've traveled through time as much as he has, you're bound to make some fatal mistakes at some time or another.