Last updated 02 January 2017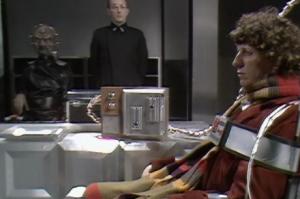 Broadcast: Tuesday 15th February 2000
6:00pm-6:25pm GMT
«
»
BBC2
Featuring: Tom Baker, Ian Marter, Elisabeth Sladen, Peter Miles, Michael Wisher
When the Kaled dome is destroyed by the Thals' rocket, the war appears to be over and the Thals rejoice at their victory. But then, the Daleks appear and a massacre begins.
Synopsis Source: Doctor Who Guide
Broadcast Source: TWiDW
Report from the This Week in Doctor Who Archive:
Friday 11th February 2000:
BBC2
http://www.bbc.co.uk/schedules/
Tue 6PM GMT Genesis of the Daleks ep 4 of 6
The Kaled race has been virtually destroyed, but the danger for the Thals has just begun. Unlike last week's episodes, the Doctor Who Restoration Team is getting to work on the episode before it airs.