Last updated 02 January 2017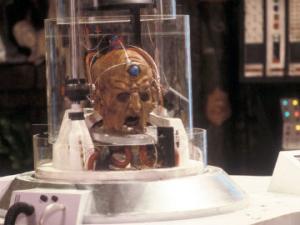 Broadcast: Saturday 22nd July 2000
11:30pm-11:55pm EDT
(03:30 GMT)
<
>
«
»
WUSF
Featuring: Colin Baker, Nicola Bryant, Eleanor Bron, William Gaunt, Terry Molloy, Alexei Sayle, Clive Swift, Jenny Tomasin
An assassin plots to murder Davros and the Doctor admits to Peri they are in great danger�
Synopsis Source: Doctor Who Guide
Broadcast Source: TWIDW
Report from the This Week in Doctor Who Archive:
Friday 21st July 2000:
WUSF 16 Tampa, FL
http://www.wusftv.usf.edu/gateway.htm
Sat 11:30PM EDT Revelation of the Daleks 4 pt version, ep 3
The 6th Doctor investigates reports of his own death and burial. Orcini's hunt for Davros gets underway. Tasambeker faces a moral dilemma - love or immortality. And the DJ, in a surprising bit of foreshadowing, wears the 7th Doctor's outfit at one point in this episode.