Last updated 02 January 2017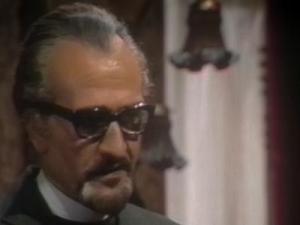 Broadcast: Sunday 27th August 2000
8:00am-8:30am AEDT
(21:00 GMT)
<
>
«
»
BBC UKTV
(adverts during broadcast)
Featuring: Jon Pertwee, Nicholas Courtney, Katy Manning, Roger Delgado, Richard Franklin, Damaris Hayman, John Levene
The Doctor attempts to help the Brigadier penetrate the heat barrier, but is attacked by the Master's servant in a helicopter. The Master prepares to summon the Daemon Azal.
Synopsis Source: Doctor Who Guide
Broadcast Source: TWIDW
Report from the This Week in Doctor Who Archive:
Friday 25th August 2000:
UKTV Australia
http://www.varos.com/drwho/uktv/
Sun 7AM, Late Sun 1AM AEDT The Dæmons all 5 eps
A black magic story, with secret cults, a witch, wacky technology, and everyone's favorite foe - the Master. Episode one is the real highlight, with the sense of a countdown to destruction.
Mon 11:45PM AEDT Day of the Daleks ep 3 of 4
Tue 11:30PM AEDT Day of the Daleks ep 4 of 4
Special start time on Monday.
The 22nd Century Daleks try to exterminate the rebels before the incident in the 20th Century, unaware that it was the rebels whose foolhardy actions created the Dalek run timeline in the first place.
Wed-Fri 11:30PM AEDT The Curse of Peladon eps 1 - 3 of 4
The Time Lords send the TARDIS to Peladon, a planet seeking admittance to the Galactic Federation. Someone is trying to murder the delegates who will make the decision.