Last updated 02 January 2017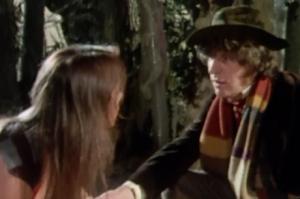 Broadcast: Friday 4th August 2000
5:00am-6:00am EDT
(09:00 GMT)
<
>
«
»
BBC America
(adverts during broadcast)
Featuring: Tom Baker, Louise Jameson, Brendan Price
The Doctor arrives on an alien world and is taken captive by the savage Sevateem tribe. Accused of being 'the evil one', the Doctor begins to suspect that he has been here before.
Synopsis Source: Doctor Who Guide
Broadcast Source: TWIDW
Report from the This Week in Doctor Who Archive:
Friday 28th July 2000:
BBC America
http://www.bbcamerica.com/
Weekdays 5AM EDT - 2 episodes edited together daily
Mon-Tue The Hand Of Fear eps 1 - 4 of 4
Sarah goes Nuclear when she bonds with a fossilized hand after being buried in a quarry accident.
Wed-Thu The Deadly Assassin eps 1 - 4 of 4
Alone and friendless, the 4th Doctor answers the call of Gallifrey to try to stop a tragedy, unaware that he's been set up by a vengeful old foe.
Fri The Face of Evil eps 1 - 2 of 4
The Doctor stumbles upon a world where he is considered the greatest evil that ever lived. In the "monsters we should have seen again" file, check out the Horda.