Last updated 02 January 2017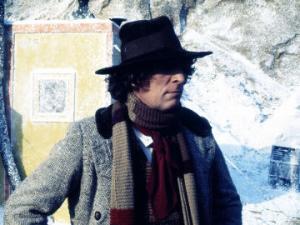 Broadcast: Monday 24th July 2000
5:00am-6:00am EDT
(09:00 GMT)
<
>
«
»
BBC America
(adverts during broadcast)
Featuring: Tom Baker, Elisabeth Sladen, Tony Beckley, John Challis
Learning of an alien seed pod at the Antarctic, the Doctor and Sarah investigate. But they are too late. A man is already turning into a Krynoid.
Synopsis Source: Doctor Who Guide
Broadcast Source: TWIDW
Report from the This Week in Doctor Who Archive:
Friday 21st July 2000:
BBC America
http://www.bbcamerica.com/
Weekdays 5AM EDT (check local cable/satellite lineup) - 2 episodes daily
Mon-Wed The Seeds of Doom eps 1 - 6 of 6
"Miss Smith, we're needed! Alien seed pods were just found in Antarctica, and I think the idiots down there might try to awaken them. We need to pretend to still be working for U.N.I.T, get down there, take the pods, and dispose of these hazards. In case things get rough, remember to practice your kickboxing. What, you don't kickbox? I guess we'll just have to hope that no homicidal botanists send down assassins to try to steal the pods, then.
Thu-Fri The Masque of Mandragora eps 1 - 4 of 4
Note to Main Console Room: "I did warn you that if you kept on malfunctioning, I would try the other room. And yes, I appreciate the irony that the other console room promptly let in an angry piece of Mandragora energy that took us to 15th Century Italy and tried to create a new Dark Ages on Earth. But it will be at least a full season before I bother giving you another chance." - Doctor