Last updated 02 January 2017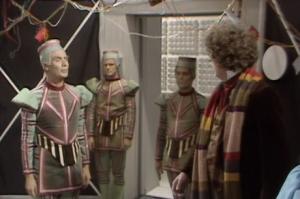 Broadcast: Sunday 11th June 2000
8:00am-9:00am EDT
(12:00 GMT)
<
>
«
»
BBC America
(adverts during broadcast)
Featuring: Tom Baker, Louise Jameson, Brendan Price
Penetrating the barrier with Leela, the Doctor enters the spaceship which is controlled by the Tesh. There he discovers the truth about Xoanon and realises that he is to blame.
Synopsis Source: Doctor Who Guide
Broadcast Source: TWIDW
Report from the This Week in Doctor Who Archive:
Friday 9th June 2000:
BBC America
http://www.bbcamerica.com/
The Face of Evil eps 3+4 of 4
Sat 6AM, Sun 8AM+5PM EDT Eastern Feed (PDT Pacific Feed)
The 4th Doctor must outwit an evil version of his own mind. The Sevateem attack the realm of the Tesh.