Last updated 02 January 2017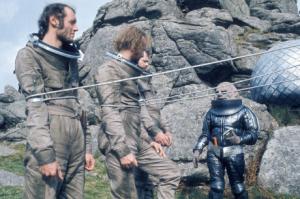 Broadcast: Saturday 1st January 2000
7:00am-8:00am EST
(12:00 GMT)
<
>
«
»
BBC America
(adverts during broadcast)
Featuring: Tom Baker, Ian Marter, Elisabeth Sladen, Kevin Lindsay
The Doctor, Harry and Sarah find Earth is a desolate wilderness. They meet a group of stranded human colonists who are being hunted by a robot and experimented upon by its master.
Synopsis Source: Doctor Who Guide
Broadcast Source: TWIDW
Report from the This Week in Doctor Who Archive:
Thursday 30th December 1999:
BBC America
http://www.bbcamerica.com/
The Sontaran Experiment movie
Sat 7AM EST Eastern Feed (4AM SFMT); Sat 7AM PST Pacific Feed (7AM SFMT)
The Doctor and company teleport to Earth to see if it has sufficiently recovered from solar flares to be inhabitable again. It appears that not only is Earth inhabitable, but it is already inhabited!
Next week
- part 1 of
The Seeds of Doom
, and the show moves into new time slots.