Last updated 02 January 2017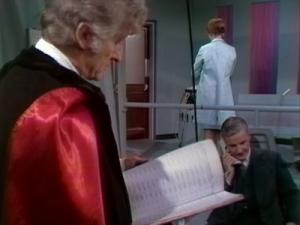 Broadcast: Sunday 2nd January 2000
11:00pm-11:25pm PST
(07:00 GMT)
<
>
«
»
KQED Plus
Featuring: Jon Pertwee, Nicholas Courtney, Caroline John, Fulton Mackay, Peter Miles
UNIT are summoned to Wenley Moor research station which is experiencing mysterious power losses. In the nearby caves, one of the staff has been killed and another sent insane.
Synopsis Source: Doctor Who Guide
Broadcast Source: TWIDW
Report from the This Week in Doctor Who Archive:
Thursday 30th December 1999:
KTEH 54 San Jose, CA
http://www.kteh.org/
Sun 11PM PST (11PM SFMT) Doctor Who And The Silurians all 7 eps
The color-restored version, airing one more time before KTEH's current rights to it expires. An experimental nuclear power plant built into caves is being disrupted by creatures inside the caves. The Doctor's investigation leads to the rediscovery of a culture that is apparently millions of years old - and irretrievably hostile to the continuation of humanity on Earth.