Last updated 02 January 2017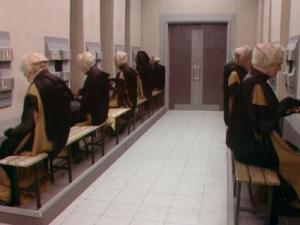 Broadcast: Sunday 19th December 1999
11:50pm-12:15am PST
(07:50 GMT)
<
>
«
»
KQED Plus
Featuring: Tom Baker, Janet Fielding, Sarah Sutton, Matthew Waterhouse, Anthony Ainley, John Fraser
The Master is loose on Logopolis and is determined to learn its secret. But there is more at stake than he realises and his meddling has endangered the entire universe.
Synopsis Source: Doctor Who Guide
Broadcast Source: TWIDW
Report from the This Week in Doctor Who Archive:
Friday 17th December 1999:
KTEH 54 San Jose, CA
http://www.kteh.org/
Sun 11PM PST Logopolis all 4 eps
The episodic prints of this story were already complete, so no KTEH-originated restoration work was done. The Master manipulates the entire galaxy in an attempt to gain control of the universe. Not bad for your first real crime after calcifying in a glade for several decades. Final 4th Doctor story.