Last updated 02 January 2017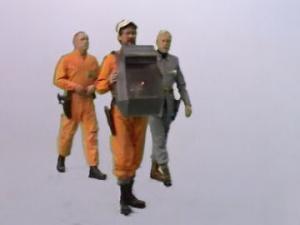 Broadcast: Sunday 5th December 1999
11:00pm-11:25pm PST
(07:00 GMT)
<
>
«
»
KQED Plus
Featuring: Tom Baker, John Leeson, Lalla Ward, Matthew Waterhouse, Clifford Rose
The TARDIS is drawn into an empty white void, somewhere between universes. But they are not the only ones trapped there.
Synopsis Source: Doctor Who Guide
---
Broadcast notes:
Ken Patterson/KTEH-reconstructed endings version (see note)
Broadcast Source: TWIDW
Report from the This Week in Doctor Who Archive:
Friday 3rd December 1999:
KTEH 54 San Jose, CA
http://www.kteh.org/
Sun 11:18PM PST Warriors' Gate all 4 eps (Restored!)
Late start due to pledge drives. The 4th Doctor, 2nd Romana, K9 II, and Adric I arrive at a gateway that could offer them a way out of E-Space. But first, they have some villains to keep from hurting each other. This version was made using both the US episodic and movie versions of the story, to restore the episodic versions to their complete form.