Last updated 02 January 2017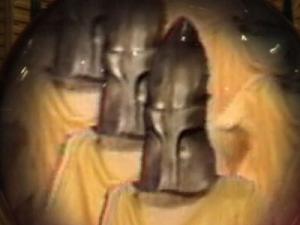 Broadcast: Monday 8th November 1999
12:15am-12:40am PST
(08:15 GMT)
<
>
«
»
KQED Plus
Featuring: Tom Baker, Lalla Ward, Adrienne Corri, David Haig, Nigel Lambert
The obsessed Pangol is determined to give Argolis a future with himself as the leader of the reborn race. He plans to strike back at the Foamasi.
Synopsis Source: Doctor Who Guide
Broadcast Source: TWIDW
Report from the This Week in Doctor Who Archive:
Friday 5th November 1999:
KTEH 54 San Jose, CA
http://www.kteh.org/
Sun 11PM PST The Leisure Hive all 4 eps
John Nathan-Turner
becomes the producer, heralding new opening credits, a change in the color of the Doctor's scarf, K9 becoming disabled in every story, and more experimental camera shots. First up, the Doctor and Romana decide to take a vacation at the famous leisure hive, a resort built by the survivors of a devastating war. It appears someone wants the war to have a sequel.