Last updated 02 January 2017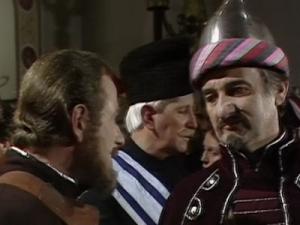 Broadcast: Sunday 12th September 1999
11:25pm-11:50pm PDT
(06:25 GMT)
«
»
KQED Plus
Featuring: Tom Baker, John Leeson, Mary Tamm, Peter Jeffrey
Count Grendel is plotting to seize the Taran throne from the rightful heir, Prince Reynart, and has mistaken Romana for an android duplicate of the Prince's betrothed, Princess Strella, to whom she bears a remarkable resemblance. 
The Doctor is meanwhile captured by Prince Reynart's men Zadek and Farrah and taken to his hunting lodge, where he is forced to repair an android double of the Prince to act as a decoy for potential assassins.
Synopsis Source: Doctor Who Guide
Broadcast Source: TWIDW
Report from the This Week in Doctor Who Archive:
Friday 10th September 1999:
KTEH 54 San Jose, CA
http://www.kteh.org/
Sat 11PM PDT The Androids of Tara all 4 eps
(Sun)
Everyone but the TARDIS gets a chance to flex their acting muscles in this fun story. Take a basic plot - evil uncle tries to keep rightful ruler from becoming king. Add androids and a backwards attitude towards technology. Give it a pinch of good dialogue and great casting. Stir for 4 episodes until done.