Last updated 02 January 2017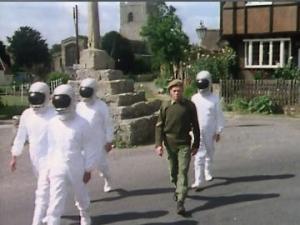 Broadcast: Sunday 26th September 1999
8:00am-9:00am EDT
(12:00 GMT)
<
>
«
»
BBC America
(adverts during broadcast)
Featuring: Tom Baker, Elisabeth Sladen, Martin Friend, Milton Johns
The TARDIS apparently arrives back on Earth but all is not as it seems as the Doctor and Sarah are attacked by mysterious space suited figures and find that the 'dead' are walking.
Synopsis Source: Doctor Who Guide
Broadcast Source: TWIDW
Report from the This Week in Doctor Who Archive:
Friday 24th September 1999:
BBC America
http://www.bbcamerica.com/
Sat 5PM, Sun 8AM EDT The Android Invasion movie, pt 1 of 2
The 4th Doctor and Sarah return to Earth. No one recognizes them. And people no longer seem able to die. Something's wrong, all right. 1 hour including commercials.