Last updated 02 January 2017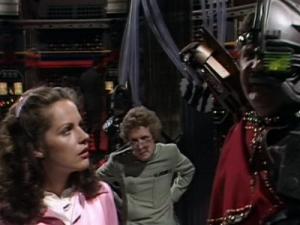 Broadcast: Sunday 29th August 1999
11:25pm-11:50pm PDT
(06:25 GMT)
<
>
«
»
KQED Plus
Featuring: Tom Baker, John Leeson, Mary Tamm, Bruce Purchase, Andrew Robertson
Still in search of the missing planet, Calufrax, the Doctor and Romana encounter the telepathic Mentiads and Zanak's ruler, the half man, half robot Captain.
Synopsis Source: Doctor Who Guide
Broadcast Source: TWIDW
Report from the This Week in Doctor Who Archive:
Friday 27th August 1999:
KTEH 54 San Jose, CA
http://www.kteh.org/
Sat 11PM PDT The Pirate Planet all 4 eps
(Sun)
Douglas Adams' first famous work, before
Hitch-hiker's Guide To The Galaxy
was made. The Doctor goes to the place where the 2nd segment of the Key To Time is supposed to be. Slight problem - the planet's missing and has been replaced by another one. Someone is using their planet to eliminate other planets in search of elements for a procedure that will contravene the laws of physics.