Last updated 02 January 2017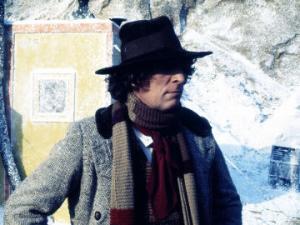 Broadcast: Saturday 18th December 1999
10:00pm-10:25pm MST
(05:00 GMT)
<
>
«
»
Colorado Public Television
Featuring: Tom Baker, Elisabeth Sladen, Tony Beckley, John Challis
Learning of an alien seed pod at the Antarctic, the Doctor and Sarah investigate. But they are too late. A man is already turning into a Krynoid.
Synopsis Source: Doctor Who Guide
Broadcast Source: TWIDW
Report from the This Week in Doctor Who Archive:
Friday 17th December 1999:
KBDI/K32EO Denver/Colorado Springs, CO
http://www.kbdi.org/
http://www.tvquest.com/ zip 80205
Late Fri 12:30AM MST The Brain of Morbius all 4 eps
The TARDIS brings the Doctor and Sarah to a desolate planet near Gallifrey, home to a disreputable scientist, a mystic sisterhood, and an alien graveyard. Both the scientist and the sisterhood seem to want to do terrible things to the Doctor. Maybe he should have introduced himself to the graveyard instead.
Sat 10PM MST The Seeds of Doom eps 1+2 of 6
An Antarctic expedition uncovers two alien plant pods buried in the snow. If the pods are allowed to germinate, all life on Earth will be in danger.