Last updated 02 January 2017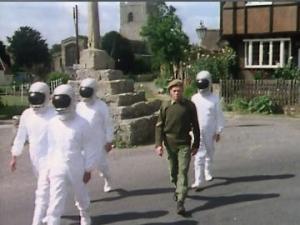 Broadcast: Saturday 6th November 1999
10:00pm-10:25pm MST
(05:00 GMT)
<
>
«
»
Colorado Public Television
Featuring: Tom Baker, Elisabeth Sladen, Martin Friend, Milton Johns
The TARDIS apparently arrives back on Earth but all is not as it seems as the Doctor and Sarah are attacked by mysterious space suited figures and find that the 'dead' are walking.
Synopsis Source: Doctor Who Guide
Broadcast Source: TWIDW
Report from the This Week in Doctor Who Archive:
Friday 5th November 1999:
KBDI/K32EO Denver/Colorado Springs, CO
http://www.kbdi.org/
http://www.tvquest.com/ zip 80205
Late Fri 12:30AM MST Pyramids of Mars eps 3+4 of 4
Sat 10PM MST The Android Invasion eps 1+2 of 4
New later start time on Friday. If you're still awake that late on Friday, the Doctor and Sarah must defeat Sutekh in 1911 to save the world from destruction in 1980. On Saturday, the Doctor and Sarah return to Earth to find it strangely empty. The living die too easily. The dead go to the pub. In spite of this, the Doctor suspects that something is wrong with Earth.