Last updated 02 January 2017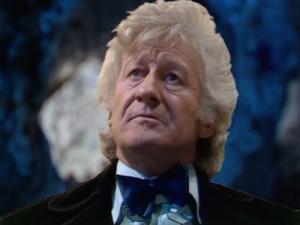 Broadcast: Saturday 4th September 1999
12:00am-12:30am AEST
(14:00 GMT)
«
»
BBC UKTV
(adverts during broadcast)
Featuring: Tom Baker, Jon Pertwee, Nicholas Courtney, Elisabeth Sladen, George Cormack, John Dearth, Richard Franklin, Gareth Hunt, John Kane
The Doctor takes the blue crystal and returns to Metebelis 3 where he must face the spider ruler, the Great One. But it is an encounter that triggers his second regeneration..
Synopsis Source: Doctor Who Guide
Broadcast Source: TWIDW
Report from the This Week in Doctor Who Archive:
Friday 27th August 1999:
UKTV
http://www.varos.com/drwho/uktv/ and http://foxtel.com.au/
Sat 1PM, Sun 2 and 7AM The War Games all 10 eps!
Mon - Thu 11:30PM Planet of the Spiders eps 1 - 4 of 6
Fri 11:30PM Planet of the Spiders eps 5 + 6 of 6
Don't blink when you watch UKTV over the weekend, or you might miss the occasional broadcast of something
other
than
The War Games
, the final adventure of the 2nd Doctor. The weekdays are turned over to
Planet of the Spiders
, the real story behind the demise of the 3rdDoctor. It's the Who-Files, and they plan to last forever, bwa-ha-ha!