Last updated 02 January 2017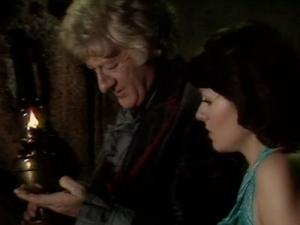 Broadcast: Friday 3rd December 1999
11:31pm-11:56pm CST
(05:31 GMT)
<
>
«
»
Iowa Public TV
Featuring: Jon Pertwee, Elisabeth Sladen, Julian Fox, Joy Harrison, Duncan Lamont
The TARDIS suffers a power drain and is forced down on the planet Exxilon. Sarah is captured by the primitive inhabitants and the Doctor comes face to face with his oldest enemies.
Synopsis Source: Doctor Who Guide
Broadcast Source: TWIDW
Report from the This Week in Doctor Who Archive:
Friday 3rd December 1999:
IPTV
Iowa 11, 12, 21, 24, 27, 32, 32, 36 http://www.sffn.com/
http://www.iptv.org/
Fri 11:05PM CST Invasion of the Dinosaurs ep 6 of 6
Operation Golden Age reaches its fruition. Humanity is about to return to the age of the Dinosaurs.
Fri ~11:31PM CST Death to the Daleks all 4 eps
The Y2K bug strikes the TARDIS as it passes by a barren planet. Barren apart from the big city. And those savages. And some exhausted humans. And some crippled yet feisty Daleks. Other than that, completely barren. Oh, alright. There's an excitable root ... Pledge season. Expect late starting times.