Last updated 02 January 2017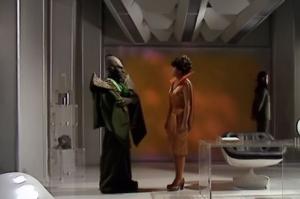 Broadcast: Friday 17th September 1999
11:31pm-11:56pm CDT
(04:31 GMT)
<
>
«
»
Iowa Public TV
Featuring: Jon Pertwee, Katy Manning, Vera Fusek, Michael Hawkins
The Doctor and Jo land on a spaceship in the far future as it is attacked by Ogrons, which the human crew see as Draconians. The Doctor and Jo are taken to Earth as spies.
Synopsis Source: Doctor Who Guide
Broadcast Source: TWIDW
Report from the This Week in Doctor Who Archive:
Friday 17th September 1999:
IPTV
Iowa 11, 12, 21, 24, 27, 32, 32, 36
http://www.sffn.com/ and http://www.iptv.org/
Fri 11:05PM CDT Carnival Of Monsters ep 4 of 4
Fri 11:31PM CDT Frontier In Space ep 1 of 6
In Carnival, one of the blue faced people manipulates the Drashigs in the Scope in an attempt to seize control of the planet, with disastrous results. Later, the TARDIS collides with a space freighter that is due to be hijacked.