Last updated 02 January 2017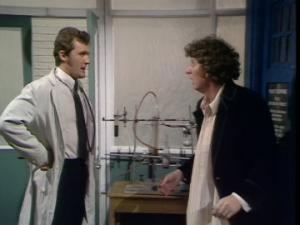 Broadcast: Saturday 8th May 1999
11:30pm-11:55pm CDT
(04:30 GMT)
>
»
TPT
Featuring: Tom Baker, Nicholas Courtney, Ian Marter, Elisabeth Sladen, Patricia Maynard
UNIT are called in when top secret plans and valuable equipment is stolen from high security establishments. The newly regenerated Doctor suggests that the thief may not be human.
Synopsis Source: Doctor Who Guide
Broadcast Source: TWiDW
Report from the This Week in Doctor Who Archive:
Friday 7th May 1999:
*****RELAUNCH*****
KTCA 2
St. Paul, MN
http://www.ktca.org/
Saturday at 11:30PM CDT Robot episode 1 of 4
Military secrets are being stolen at an alarming rate. UNIT is called in to investigate. But UNIT's most qualified advisor is a bit distracted at the moment. He's just regenerated into a new personality, leaving him rather unstable.
*****RELAUNCH*****