Last updated 02 January 2017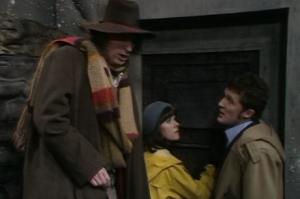 Broadcast: Saturday 10th July 1999
5:00pm-6:00pm EDT
(21:00 GMT)
<
>
«
»
BBC America
(adverts during broadcast)
Featuring: Tom Baker, Ian Marter, Elisabeth Sladen, Peter Miles, Michael Wisher
The Time Lords send the Doctor, Sarah and Harry to Skaro at a point in time shortly before the creation of the Daleks. The Doctor's mission is to destroy his greatest enemy.
Synopsis Source: Doctor Who Guide
Broadcast Source: TWIDW
Report from the This Week in Doctor Who Archive:
Friday 9th July 1999:
BBC America
http://www.bbcamerica.com/
Saturday at 5PM, Sunday at 8AM EDT Genesis of the Daleks movie version, part 1 of 3
"This is a Kaled News Network special report! The war effort is going well. Our 80% casualty raate is lower than the casualty rate of the Thals. In a battle of attrition, we would undoubtably come out the victors. Thankfully, attrition will no longer be needed. Our sources in the Kaled Institutional Dome Scientific (KIDS) report that Albert Davros, our greatest scientist, has finally sorted out the major technical problems with the Mark III Travel Machine. Our mutated comrades will be able to live full lives again, and wreak their vengeance on the Thals, ending the war much sooner. The Kaleds will rule! And now to the sports desk ..."