Last updated 02 January 2017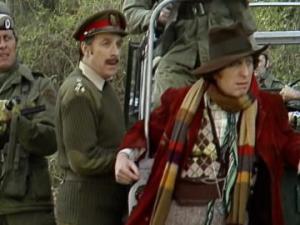 Broadcast: Sunday 13th June 1999
8:00am-9:00am EDT
(12:00 GMT)
<
>
«
»
BBC America
(adverts during broadcast)
Featuring: Tom Baker, Nicholas Courtney, Ian Marter, Elisabeth Sladen, Patricia Maynard
Sealed inside an underground bunker, Miss Winters issues her demands to the world's leaders, threatening a devastating nuclear strike if her demands are not met.
Synopsis Source: Doctor Who Guide
Broadcast Source: TWIDW
Report from the This Week in Doctor Who Archive:
Friday 11th June 1999:
BBC America
http://www.bbcamerica.com/
Saturday at 5PM EDT, Sunday at 8AM EDT Robot movie version, part 2 of 2
The SRS prepare to use the Robot and the materials they have stolen to set off a nuclear war. Can the Bride of Frankenstein, er, um, ah, Professor Kettlewell save the day? Or will he allow Austin Powers, er, Miss Winters to take over the world?