Last updated 02 January 2017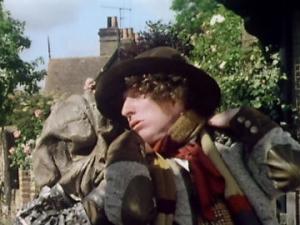 Broadcast: Sunday 16th May 1999
8:00am-9:00am EDT
(12:00 GMT)
<
>
«
»
BBC America
(adverts during broadcast)
Featuring: Tom Baker, Ian Marter, Elisabeth Sladen, Martin Friend, Milton Johns
The Kraals intend to invade Earth by stowing away aboard Crayford's rocket as it returns home. The Doctor learns Styggron's plan is to wipe out all life on the planet.
Synopsis Source: Doctor Who Guide
Broadcast Source: TWIDW
Report from the This Week in Doctor Who Archive:
Friday 14th May 1999:
BBC America
http://www.bbcamerica.com/home.html
Sunday at 8AM EDT The Android Invasion movie version, part 2 of 2
No Saturday broadcast due to Fawlty Towers marathon. The 4th Doctor and Sarah must get to the real Earth to warn people about the Kraal invasion before it's too late.