Last updated 02 January 2017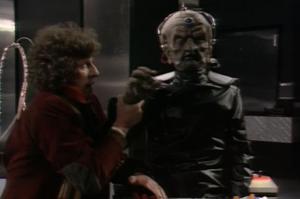 Broadcast: Sunday 11th April 1999
8:00am-9:00am EDT
(12:00 GMT)
<
>
«
»
BBC America
Featuring: Tom Baker, Ian Marter, Elisabeth Sladen, Peter Miles, Michael Wisher, Stephen Yardley
With Harry and Sarah his prisoners, Davros interrogates the Doctor, forcing him to reveal the future of the Daleks so that he can learn from their defeats to make them stronger.
Synopsis Source: Doctor Who Guide
Broadcast Source: TWIDW
Report from the This Week in Doctor Who Archive:
Friday 9th April 1999:
BBC America
http://www.bbcamerica.com/
Saturday at 11AM and 5PM EDT, Sunday at 8AM EDT Genesis of the Daleks movie version, part 3 of 3
Dear Diary. Things to do today: Torture that fellow in a scarf. Feed the fish. Redesign machines to make them more
effective
. Cluck like a chicken. Massacre more Thals. Watch Larry King Live. Deal with that Kaled insurrection. Secondary note: Must remember to exterminate the folks at BBC America if they edit the two episodes together, cut scenes for more commercials, and air them in a 1 hour slot like they normally do.