Last updated 02 January 2017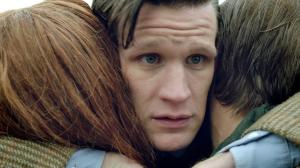 Visit Broadcast Link
Broadcast: Saturday 29th September 2012
7:20pm-8:05pm BST
(18:20 GMT)
<
>
«
»

<
>
«
»
(actually broadcast at 19:20:30)
BBC One
Featuring: Matt Smith, Arthur Darvill, Karen Gillan, Rob David, Alex Kingston
Broadcast Source: BBC
Ratings Information:
Initial figures:
5.900m viewers (overnight), 26.9% audience share, 2nd place day
Consolidated figures:
7.820m viewers (+7 days), 32.0% audience share, 13th place, AI 88
Online player figures:
1.65m requests as of 7th October 2012
Initials: the episode was the highest rated programme on BBC One for the day, with
Casualty
getting 3.7m viewers. Highest programme of the day was
The X Factor
with 8.7m watching. Against
Doctor Who
, ITV 1's Red or Black? had 3.5 million viewers.
The audience increased throughout the episode, as more viewers joined to witness the departure of 'The Ponds', peaking at 6.4m for the last five minutes.
Finals: the episode was 5th for week on BBC1
Live+7 Figures: 8.92m (Live+VOSDAL: 5.86m, Narrative Repeat: 0.31m, Time-Shift: 1.93m, iPlayer: 0.82m)
iPlayer Figures: available for 14 days, accessed 1,493,720 times in first week.