Last updated 02 January 2017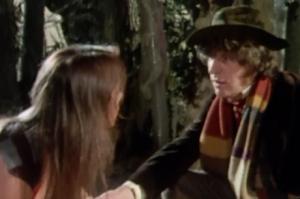 Broadcast: Sunday 13th June 1999
11:00pm-11:25pm PDT
(06:00 GMT)
<
>
«
»
KQED Plus
Featuring: Tom Baker, Louise Jameson, Brendan Price
The Doctor arrives on an alien world and is taken captive by the savage Sevateem tribe. Accused of being 'the evil one', the Doctor begins to suspect that he has been here before.
Synopsis Source: Doctor Who Guide
Broadcast Source: TWIDW
Report from the This Week in Doctor Who Archive:
Friday 11th June 1999:
KTEH 54 San Jose, CA
http://www.kteh.org/
Sunday at 11:20PM PDT The Face of Evil all 4 episodes
Late Sunday at 1:03AM PDT "Time Lord Chronicles" documentary special
The 4th Doctor lands on a planet whose population is being manipulated by a sinister computer, whose voice and appearance are identical to the Doctor's! One of the Doctor's mistakes catches up with him. Afterwards, another memorable
Doctor Who
documentary.