Last updated 02 January 2017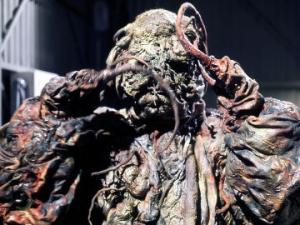 Broadcast: Monday 17th May 1999
1:05am-1:30am PDT
(08:05 GMT)
<
>
«
»
KQED Plus
Featuring: Tom Baker, Elisabeth Sladen, Tony Beckley, John Challis
The Doctor, Sarah and Scorby are hunted down by the mad Harrison Chase. Outside the Krynoid prepares to germinate, sending its deadly seed pods out across the world.
Synopsis Source: Doctor Who Guide
Broadcast Source: TWIDW
Report from the This Week in Doctor Who Archive:
Friday 14th May 1999:
KTEH 54 San Jose, CA
http://www.kteh.org/
Sunday at 11PM PDT The Seeds of Doom all 6 episodes
Late Sunday at 1:30AM PDT "interview with Jon Pertwee" - 1984 documentary
Many years ago, alien plant pods buried themselves into the Antarctica tundra. As long as they remain buried, the world is safe. But if they are ever unearthed and activated, every living animal on Earth will be threatened. After "Seeds", catch an interview with the 3rd Doctor.