Last updated 02 January 2017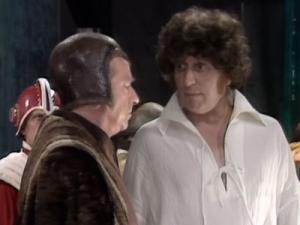 Broadcast: Saturday 11th September 1999
11:00pm-11:25pm EDT
(03:00 GMT)
«
»
MiND
Featuring: Tom Baker, Bernard Horsfall, Peter Pratt, George Pravda
The Time Lord president has been assassinated and the Doctor is the prime suspect. The Doctor realises that he has been framed for the murder, but by whom?
Synopsis Source: Doctor Who Guide
Broadcast Source: TWiDW
Report from the This Week in Doctor Who Archive:
Friday 10th September 1999:
WYBE 35 Philadelphia, PA
http://www.wybe.org/
Sat 11PM EDT The Deadly Assassin eps 2+3 of 4
The 4th Doctor is convicted of murdering the President of Gallifrey and is sentenced to die. To escape the sentence, the Doctor runs for President (make sure no politicians see that episode - we wouldn't want them to get any ideas). The end of episode 3 was highly controversial, and is believed to be the reason why the show changed producers shortly afterwards. This ending almost joined the 109 missing episodes shortly afterwards due to an accident.