Last updated 02 January 2017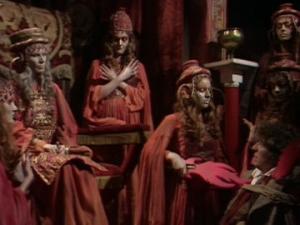 Broadcast: Saturday 3rd July 1999
11:25pm-11:50pm EDT
(03:25 GMT)
<
>
«
»
MiND
Featuring: Tom Baker, Elisabeth Sladen, Cynthia Grenville, Philip Madoc
The Doctor is a prisoner of the Sisterhood of Karn who intend to burn him at the stake. Sarah hurries to the Doctor's rescue but pays the price for her efforts.
Synopsis Source: Doctor Who Guide
Broadcast Source: TWiDW
Report from the This Week in Doctor Who Archive:
Friday 2nd July 1999:
WYBE 35 Philadelphia, PA
http://www.wybe.org/
Saturday at 11PM EDT The Brain of Morbius episodes 1 and 2 of 4
The 4th Doctor and Sarah land on Karn at the precise moment that a forgotten scientist wants a head for a dangerous experiment. Considering that the Sisterhood, the other inhabitants of the planet, are furiously opposed to any strangers being there, this might be a bad time to visit.