Last updated 02 January 2017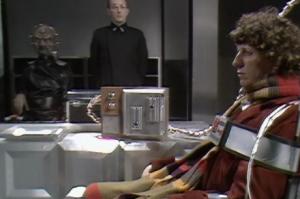 Broadcast: Saturday 24th April 1999
11:25pm-11:50pm EDT
(03:25 GMT)
<
>
«
»
MiND
Featuring: Tom Baker, Ian Marter, Elisabeth Sladen, Peter Miles, Michael Wisher
When the Kaled dome is destroyed by the Thals' rocket, the war appears to be over and the Thals rejoice at their victory. But then, the Daleks appear and a massacre begins.
Synopsis Source: Doctor Who Guide
Broadcast Source: TWiDW
Report from the This Week in Doctor Who Archive:
Friday 23rd April 1999:
WYBE 35 Philadelphia, PA
http://www.wybe.org/
Saturday at 11PM EDT Genesis of the Daleks episodes 3 and 4 of 6
The Kaleds move against Davros when it appears that he is taking his Dalek experiments into dangerous territory. The 4th Doctor and Harry try to rescue Sarah. The Thals receive a mysterious visitor, unaware that accepting this man's help may doom the future.