Last updated 02 January 2017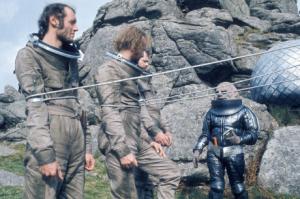 Broadcast: Saturday 3rd July 1999
10:00pm-10:25pm MDT
(04:00 GMT)
<
>
«
»
Colorado Public Television
Featuring: Tom Baker, Ian Marter, Elisabeth Sladen, Kevin Lindsay
The Doctor, Harry and Sarah find Earth is a desolate wilderness. They meet a group of stranded human colonists who are being hunted by a robot and experimented upon by its master.
Synopsis Source: Doctor Who Guide
Broadcast Source: TWIDW
Report from the This Week in Doctor Who Archive:
Friday 2nd July 1999:
KBDI / K32EO 12, 32 Denver / Colorado Springs, CO
http://www.kbdi.org/
http://www.tvquest.com/ zip 80205
Friday at 11PM MDT The Ark In Space episodes 3 and 4 of 4
Saturday at 10PM MDT The Sontaran Experiment both episodes
On Friday, catch the second half of "Ark", as the Doctor and company try to keep the Wirrn from eating the last survivors of humanity. Saturday, the Doctor visits an Earth that has been ravaged by solar flares. He wants to find out if Earth is once again habitable for humans. Earth is certainly habitable for beings with potato heads.