Last updated 02 January 2017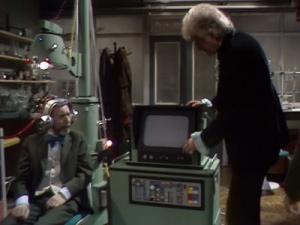 Broadcast: Monday 3rd May 1999
10:00pm-10:25pm MDT
(04:00 GMT)
<
>
«
»
Colorado Public Television
Featuring: Jon Pertwee, Nicholas Courtney, Elisabeth Sladen, John Dearth, Richard Franklin, John Kane, John Levene
The Doctor receives a mysterious package from his old companion, Jo Grant. Sarah joins Mike Yates to investigate sinister events at a Buddhist meditation centre.
Synopsis Source: Doctor Who Guide
Broadcast Source: TWIDW
Report from the This Week in Doctor Who Archive:
Friday 7th May 1999:
KBDI 12 Denver, CO
http://www.kbdi.org/
Friday at 11PM MDT The Monster of Peladon eps 5 and 6 of 6
Saturday at 10PM MDT Planet of the Spiders eps 1 and 2 of 6
On Friday, the two sides of the Peladonian conflict team up to get rid of NATO, er, the Galactic Federation, and then try to work out their differences. In "Planet", spiders from Metebelis decide that they want to reclaim the blue crystal the 3rd Doctor "borrowed" from their planet.