Last updated 02 January 2017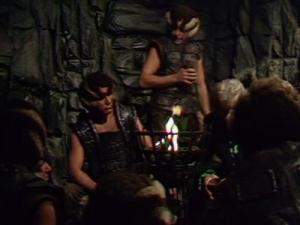 Broadcast: Monday 12th April 1999
10:25pm-10:50pm MDT
(04:25 GMT)
<
>
«
»
Colorado Public Television
Featuring: Jon Pertwee, Elisabeth Sladen, Frank Gatliff, Donald Gee, Rex Robinson, Nina Thomas, Ralph Watson
Chancellor Ortron accuses the Doctor and Sarah of being in league with the rebel miners and sentences them to be punished by Aggedor himself.
Synopsis Source: Doctor Who Guide
Broadcast Source: TWIDW
Report from the This Week in Doctor Who Archive:
Friday 9th April 1999:
KBDI 12 Denver, CO
http://www.kbdi.org/
Friday at 11:05PM MDT Death to the Daleks eps 3 and 4 of 4
Saturday at 10PM MDT The Monster of Peladon eps 1 and 2 of 6
Friday's episodes show comparatively intelligent Daleks. They betray the humans, trick the natives, and even figure out the tricks to surviving the killer city. But have they ever had to tangle with Sarah Jane Smith? ;-) On Saturday the 3rd Doctor returns to Peladon to find a planet in even more trouble than the last time he showed up. Last time, failure would result in misery for one planet. This time, failure could rock the core of the entire Galactic Federation.