Last updated 02 January 2017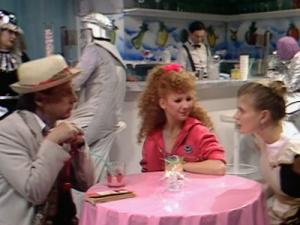 Broadcast: Saturday 17th April 1999
5:52pm-7:00pm EDT
(21:52 GMT)
<
>
«
»
WUFT
Featuring: Sylvester McCoy, Sophie Aldred, Bonnie Langford, Edward Peel, Patricia Quinn, Tony Selby
On Iceworld, the Doctor and Mel meet Ace, who has found herself there after a timestorm. While Ace nearly joins Kane's mercenaries, the Doctor and Glitz explore the ice caverns.
Synopsis Source: Doctor Who Guide
Broadcast Source: TWIDW
Report from the This Week in Doctor Who Archive:
Friday 16th April 1999:
WUFT 5 Gainesville, FL
http://www.wuft.org/
Saturday at 4:45PM EDT Delta and the Bannermen movie version
Saturday at 5:52PM EDT Dragonfire movie version
Special double feature due to the lengths of the stories - ends at 7PM. The 7th Doctor and Mel land at a toll booth, where they win a free vacation to 1959 Disneyland. Disneyland being, of course, in Wales, or at least the bus thinks so when it crashes there. But a mildly unpleasant villain wants to kill one of the fellow vacationers, forcing the Doctor and Mel to protect her. Afterwards, the Doctor and Mel arrive at Iceworld, a holiday tourist attraction that believes in cold comfort'. While there, they reunite with Sabalom Glitz, the friendly crook, and encounter Ace, a 16 year old who has absolutely no reason to be there. Oh, and there's a buried treasure and a secret worth killing for, to keep people interested.