Last updated 02 January 2017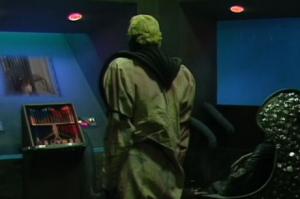 Broadcast: Saturday 30th January 1999
5:00pm-6:30pm EST
(22:00 GMT)
<
>
«
»
WUFT
Featuring: Colin Baker, Nicola Bryant, David Chandler, Paul Darrow
As rebellion grows on Karfel, the Maylin's daughter Vena falls into the Timelash while protecting a rebel. She is drawn into the TARDIS as it travels through a Kontron time tunnel.
Synopsis Source: Doctor Who Guide
Broadcast Source: TWIDW
Report from the This Week in Doctor Who Archive:
Friday 29th January 1999:
WUFT 5 Gainesville, FL
http://www.wuft.org/
Saturday at 5PM - Timelash - movie version
It's an unusual tale of deception and monkeying with the laws of time travel when the Doctor Who series attempts to make a sequel to a story that was never made. The planet Karfel's future is endangered by its ruler, a man who is erasing all known mentions of "The Doctor" from his civilization. Guest starring H G Wells.