Last updated 02 January 2017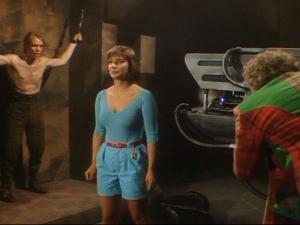 Broadcast: Saturday 9th January 1999
5:00pm-6:30pm EST
(22:00 GMT)
<
>
«
»
WUFT
Featuring: Colin Baker, Nicola Bryant, Forbes Collins, Jason Connery, Martin Jarvis, Nabil Shaban
Needing Zeiton 7 ore urgently for the TARDIS, the Doctor takes Peri to Varos. They quickly become part of the sadistic programming that entertains the populace.
Synopsis Source: Doctor Who Guide
Broadcast Source: TWIDW
Report from the This Week in Doctor Who Archive:
Friday 8th January 1999:
WUFT 5 Gainesville, Florida
http://www.wuft.org/
Saturday at 5PM - Vengeance on Varos - movie version
The Doctor's TARDIS needs a rare ore called zeiton 7, which seems to only available on a planet called Varos. There, the Doctor and Peri stumble in on the only entertainment for the Varosians, public torture. Will the Doctor be able to get what he came for without blundering into danger? About 90 minutes.