Last updated 02 January 2017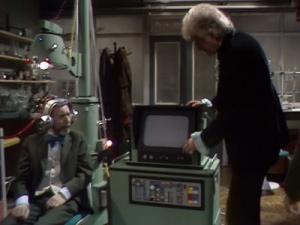 Broadcast: Saturday 21st August 1999
12:00am-2:15am EDT
(04:00 GMT)
<
>
«
»
MPT Maryland
Featuring: Jon Pertwee, Nicholas Courtney, Elisabeth Sladen, John Dearth, Richard Franklin, John Kane, John Levene
The Doctor receives a mysterious package from his old companion, Jo Grant. Sarah joins Mike Yates to investigate sinister events at a Buddhist meditation centre.
Synopsis Source: Doctor Who Guide
---
Broadcast notes:
Timing approximate owing to pledge evening.
Broadcast Source: TWIDW
Report from the This Week in Doctor Who Archive:
Friday 20th August 1999:
MPT Maryland
22, 28, 31, 36, 62, 67
http://www.mpt.org/
Late Fri Midnight? EDT, Late Sat 12:30?AM EDT Planet of the Spiders movie
Time approximate after pledges. Jon Pertwee finishes his role as the 3rd Doctor in this story. Some time ago, the Doctor removed a crystal from Metebelis Three. Now, its unrightful owners want it back, and are prepared to tear Earth apart to get it. These
spiders
have set up residence in the monastery where Mike Yates was trying to recover from the events of
Invasion of the Dinosaurs
. Only story where both of the Doctor's cars appear in the same story. As of publication time, it is unclear exactly when the broadcast will air. The Saturday broadcast is a particular question mark. TV Guide lists this 2 1/4 hour story as airing in a 90 minute slot. MPT's web site was listing it as beginning at 2AM (following a 2 ´ hour broadcast of a 52 minute
Blake's 7
) and running for 1 hour.