Last updated 02 January 2017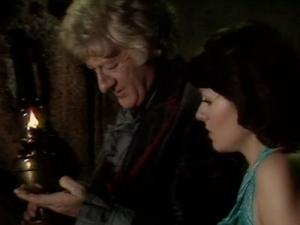 Broadcast: Saturday 7th August 1999
12:00am-1:30am EDT
(04:00 GMT)
<
>
«
»
MPT Maryland
Featuring: Jon Pertwee, Elisabeth Sladen, Julian Fox, Joy Harrison, Duncan Lamont
The TARDIS suffers a power drain and is forced down on the planet Exxilon. Sarah is captured by the primitive inhabitants and the Doctor comes face to face with his oldest enemies.
Synopsis Source: Doctor Who Guide
Broadcast Source: TWIDW
Report from the This Week in Doctor Who Archive:
Friday 6th August 1999:
MPT Maryland
22, 28, 31, 36, 62, 67
http://www.mpt.org/
Late Fri Midnight, Late Sat 12:30AM EDT Death to the Daleks movie version
Pledge programs may delay start time.
The TARDIS suffers a power outage and lands on a planet that holds the cure to a space plague that could wipe out humanity. Unfortunately, any ship that lands on the planet loses all power, and can never take off again. Fortunately for everyone, the Daleks show up to save the day?!?