Last updated 02 January 2017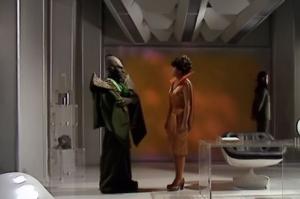 Broadcast: Sunday 4th July 1999
12:30am-2:45am EDT
(04:30 GMT)
<
>
«
»
MPT Maryland
Featuring: Jon Pertwee, Katy Manning, Vera Fusek, Michael Hawkins
The Doctor and Jo land on a spaceship in the far future as it is attacked by Ogrons, which the human crew see as Draconians. The Doctor and Jo are taken to Earth as spies.
Synopsis Source: Doctor Who Guide
Broadcast Source: TWIDW
Report from the This Week in Doctor Who Archive:
Friday 2nd July 1999:
MPT Maryland
22, 28, 31, 36, 62, 67 http://www.mpt.org/
Late Friday at Midnight (no Saturday rerun!!!) Frontier In Space movie version
The 3rd Doctor and Jo land in the middle of a dispute between Earth and Draconia that threatens to escalate into a catastrophic war. Ships from both sides are being raided, and each side thinks the other is responsible. Before you can say "that hypnotizer makes a terrible racket", both sides think the Doctor and Jo are helping the other side. No allies, no TARDIS. The Ogrons return in this story, as do 2 old enemies of the Doctor.