Last updated 02 January 2017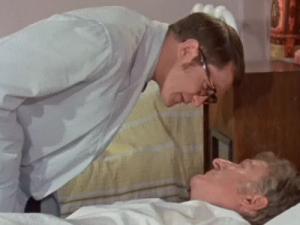 Broadcast: Sunday 14th March 1999
12:00am-1:30am EST
(05:00 GMT)
<
>
«
»
MPT Maryland
Featuring: Jon Pertwee, Nicholas Courtney, Caroline John, Hugh Burden
The TARDIS takes the newly regenerated Doctor to Earth to begin his exile. Brigadier Lethbridge-Stewart leads a UNIT investigation into a mysterious meteorite shower.
Synopsis Source: Doctor Who Guide
Broadcast Source: TWIDW
Report from the This Week in Doctor Who Archive:
Friday 12th March 1999:
Maryland Public TV
22, 28, 31, 36, 62, 67
http://www.mpt.org/
Late Friday and Saturday at Midnight EST Spearhead From Space movie version
In the first color story, UNIT's investigation of strange meteorites is interrupted when an all-too-familiar Police Box appears, complete with an apparent amnesiac who thinks the Brigadier should know him. And so the adventures of the 3rd Doctor begin.