Last updated 02 January 2017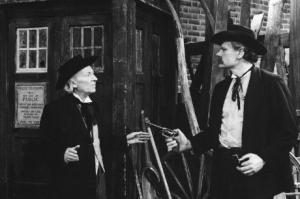 Broadcast: Saturday 9th January 1999
12:00am-1:30am EST
(05:00 GMT)
<
>
«
»
MPT Maryland
Featuring: William Hartnell, Jackie Lane, Peter Purves, Richard Beale, David Cole, David Graham, William Hurndell, Anthony Jacobs
The Doctor, Steven and Dodo arrive in Tombstone in America's Wild West. Mistaken for the infamous Doc Holliday, the Doctor unwittingly walks into a trap.
Synopsis Source: Doctor Who Guide
Broadcast Source: TWIDW
Report from the This Week in Doctor Who Archive:
Friday 8th January 1999:
Maryland Public Television
22, 28, 31, 36, 62, 67 http://www.mpt.org/
Friday and Saturday at Midnight - The Gunfighters - movie version
The Doctor needs to go to the dentist so he lands the TARDIS in the Wild West. Unfortunately, the local dentist's name is Doc Holliday and it seems the Doc is engaged is old-fashioned western feud and the TARDIS find themselves caught in the middle of it. This classic Hartnell story features the song that everybody loves to hate: "The Ballad of the Last Chance Saloon". About 100 minutes.