Last updated 02 January 2017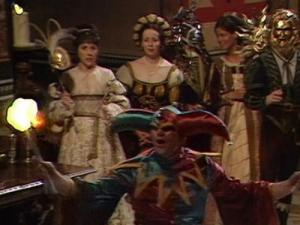 Broadcast: Saturday 22nd May 1999
9:25pm-9:50pm EDT
(01:25 GMT)
<
>
«
»
Maine Public Broadcasting
Featuring: Tom Baker, Elisabeth Sladen, Gareth Armstrong, Norman Jones, Tim Pigott-Smith
As the leading scholars of the era assemble in the palace for the masque, Mandragora prepares to attack, intent on sending the world into a new dark age.
Synopsis Source: Doctor Who Guide
Broadcast Source: TWIDW
Report from the This Week in Doctor Who Archive:
Friday 21st May 1999:
MPBC Maine
10, 10, 12, 13, 26
http://www.mpbc.org/
Saturday at 9PM EDT The Masque of Mandragora episodes 3 and 4 of 4
Mandragora prepares to swallow the moon. The astrologer becomes more insane then before. Count Frederico tries to kill his nephew, again. If Mandragora is not stopped, the future as Earth knows it will be over.