Last updated 02 January 2017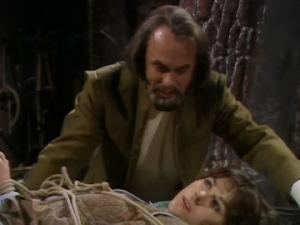 Broadcast: Saturday 3rd April 1999
9:00pm-9:25pm EST
(02:00 GMT)
«
»
Maine Public Broadcasting
Featuring: Tom Baker, Elisabeth Sladen, Cynthia Grenville, Philip Madoc
Sarah has been blinded and the Doctor asks the Sisterhood for help. Morbius, fearful that the Time Lords have tracked him down, tells Solon to install his brain in a new body.
Synopsis Source: Doctor Who Guide
Broadcast Source: TWIDW
Report from the This Week in Doctor Who Archive:
Friday 2nd April 1999:
Maine Public Broadcasting
10, 10, 12, 13, 26
http://www.mpbc.org/
Saturday at 9PM EST The Brain of Morbius episodes 3 and 4 of 4
Professor Solon intends to give the Doctor's head to the body of Morbius, a famous Time Lord criminal suffering in a body that could best be described as "chop suey". Meanwhile, the Sisterhood of Karn would like to get rid of both Solon and the Doctor - fatally if necessary.